Taxi in Madeira –

Madeira travelogue
Our Man in Funchal:

«Fabio Five Minutes»
A Norwegian's experience from Madeira 2018 
(This article has been updated July 2022)
There are about 500 yellow taxis in Funchal, Madeira. You see the yellow cars everywhere, either driving – or for a long time waiting for new customers. To have a taxi in the center of Funchal can be a lottery, because if you're not an experienced taxi user, you can be tricked. I dare claim that something has changed among some taxi drivers in Madeira, the Pearl of the Atlantic ocean. This summer (2018) we found that more drivers took freedoms that they have not done before, like driving without the use of taximeters – or perhaps making an adjustment of the fare on boarding. We experienced that the price was turned up when they heard what hotel we were going to, while another driver charged for extra luggage even if we had nothing else but my wife's little handbag.
Five minutes
Of course we did not like being treated in such a way, and we told the receptionists in our hotel what we had experienced. Like the polite and very accommodating Maderians they are, they regretted a lot the taxi drivers' behavior. They said that we could turn to the front desk when we needed a taxi, so the hotel could book a serious driver to us, or we could contact them when we wanted to return home in the evening. The front desk had to make sure that we did not get a similar bad taxi experience once more. They regretted and regretted and took without hesitation action and contacted the taxi company and told them about our experiences. 
Read about Madeira Wine
After this inquiry we had no more bad experiences with taxi in Madeira. Because that's when we met Fabio Five Minutes, a 30 year old, very happy and attentive taxi driver, who stood up for us all day's of our remaining time in Madeira. Always ready, always in a good mood, always punctual – and always driving on taximeter. After that, the taxi rides in Funchal were a very pleasant experience, and there was never doubt with us; Every time we needed a car, we called Fabio who immediately replied: «Hello, mr Josef, where can I pick you up now?» «In the same place as yesterday?» «I'll be there soon; five minutes!»
The first time was outside the Ritz Cafe, a well-known restaurant in Funchal, which has a large taxi rank across the street. Here there are always 15-20 taxis in a row. But even though we could only cross the street this evening, we called – after tips from another driver – and immediately Fabio answered at the other end. I told him where we were waiting, and where we were going – and that I was standing outside the Ritz in a white shirt. «Five minutes!» answered Fabio, and after a short while we saw a young man running against us from further down the street. This was our first meeting, an event we repeated over the past eight days of our Madeira stay this year.
Over a million kilometers passed
Fabio's cab is at first glance like all other cars, but not entirely. Clean and tidy with Fabio's black leather jacket as the only «foreign element» in the trunk. Around the gear lever is a white necklace with a large cross in the same style. On the dashboard is a small taximeter that does not contain more information than the passengers need; what you have to pay. It is clear that the Mercedes is not new. Fabio laughs, he tells us that the car and diesel engine and the gearbox have lagged behind 1 030 000 kilometers, all of which everything still works 100%! It's almost like it was new; Fabio's yellow Mercedes 250E. Everyone who has visited Madeira, knows that the number of kilometers driven is a bit of an achievement, while it is a very good advertising for the German automakers. For Madeira, there are hills, steep hills, long hills, huge steep slopes – almost everywhere. Fabio assumes that the clutch never has been changed, and we were soon given an account of what is necessary for the clutch not to be destroyed.
Does not own anything
As we become familiar with Fabio, he also tells more about himself. «I do not own anything,» he says. «I rent the apartment, I rent the car, I rent even my wife,» he laughs. He tells that he has two dogs and that one of them, Daysi, lives at home, while his father takes care of the other one. Although the father is terrified for the dog, he's so afraid that he never walks the dog, because the pit bull once bet him in the leg. But the father also knows that the dog has it's advantages; there is no one who dares to break in with him, absolutely no burglars in that house, laughs Fabio.
Read about My Dream of Madeira
Bacalao Fabio's favorite
Fabio loves bacalao, and the dish is almost the only thing he connects with Norway. «Ah, that's where the fish comes from,» he says. Fabio loves bacalao, like most Maderians, but he also digs scabbard fish – the deepwater fish that only is located two places on our planet; outside Madeira and outside Java. The Maderians love the espada dish – made of scabbard fish. Most people prefer the banana variety, like we also do, but espada is served with more fruits, including mango. Fabio, however, digs the fish as it is, ie without fruit. «It's the one that's best,» he says.
Taxi colored flag
One evening we meet a number of Portuguese officers in all their pontifals, including tall black riding boots.
The officers have been to a dinner at one of the city's restaurants, and now the gathering is over, and they span side by side through the narrow downtown streets of the old town.
It may seem that the uniform does something about these people, where they clearly express themselves in their elegant uniforms with the hero awards.
It is not all Maderians who think this is a nice happening, because many of the locals bear on a dream that they may become totally self-governing once in the future.
We pass Madeira's flag, and Fabio asks us to notice the colors of that flag, «they are the same as my cab,» he laughs.
Mister Josef
Fabio is the first to call me «Mister Josef,» and for a while I wonder if I will correct him for this. But Åse, my wife, has understood why Fabio uses this name, that's an abbreviation, a sort of summary by John and Steffensen. When I ask Fabio later about the nickname he just answers the same. «All right!» I laugh and think the name is nice. One is certainly safe, no one has ever called me «Mister Josef.» And since it comes from someone I really think about, it's all right that he calls me this.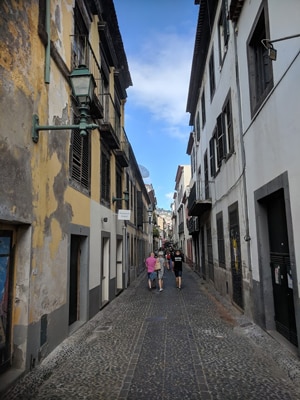 Always prepared
After 14 days in Madeira it is ready for return to Norway. Fabio told us a few evenings earlier that if he had two trips to the airport a day, he did not have to drive more that particular day. 35 euros is a fixed price from the airport to Funchal – or the opposite way. The last evening I call Fabio and ask him if he will drive us to the airport the next day. Fabio is in a brilliant mood like always: «Of course I'll drive you. It's an honor,» he continues. «When do you want to be picked up?» I say we have to go a quarter past four in the afternoon. But this last part slips for the happy driver, and we conclude the conversation in a safe way that we have a deal. A little hour later, the phone rings, and Fabio asks: «Just to be sure … quarter past four, is it tonight … or?» «In the afternoon,» I answer. Fabio laughs; «I suddenly was wondering if it was tonight you were going to leave. I obviously had arrived in the night as well, because I'm always at your disposal. But it would be stupid if you were waiting in the lobby in the middle of the night, if I thought it was in the afternoon you were going to travel. Well, I have understood correctly. I'll be coming at 16.15 tomorrow!»
When the time is approaching, we are ready in the reception. Five minutes before time, the yellow Mercedes glides in front of the hotel entrance. A brilliant, obvious attentive and friendly Fabio meets us with a big smile. Soon we will be in the taxi on our way to the airport. We have a nice and long chat together. Fabio tells about both Madeira and himself, and about his father and grandfather. The last mentioned is constantly referred to as «the angry man», because Fabio remembers the grandfather as a man who always yelled, was sour and angry. But although the story of his grandfather seems to be flattering, Fabio admits that he had learned a lot of him too. However, «the angry man» disappeared suddenly from Fabio's life when the grandpa was going to pick up seawater to treat a skin disease. Then there came a rogue, a huge wave – and that was it …
Taxi in Madeira: Dark clouds threaten…
Also Madeira will help reduce pollution on the globe. In the biginning of 2019 there are plans that will hit Fabio hard. Not only him, but many other taxi drivers too. It is planned to close the center of Funchal for all cars registered before 2001, which means that Fabio has to look after a new vehicle. The old Mercedes will no longer be allowed to drive into the city center, and then most of his life base will disappear. Buying a new cab seems unavailable to Fabio. He cannot afford it. So unless the politicians change their minds, Fabio may have to go back to his previous job as a car painter. But it's a taxi he' preferes to drive, because Fabio is an outgoing person who loves to communicate, and he likes the freedom the taxi drive entails. If the new driving regime for Funchal traffic is introduced, it will hit the taxi industry hard. According to them, more than 3/4 of the taxis on the island will no longer be able to drive downtown, and this is bad news both for drivers and the tourists.
Fabio is in a good mood and becomes even happier when he at the airport receives the payment for the trip. He gets his 35 euros, almost half the amount in small coins that we want to get rid of. Fabio is brilliantly satisfied: «Coins are top,» he says, «I need them for the cab.» He smiles as if he has won the big lot – and had won a lot of money. We get good hugs, and he waves to us – and cheering with the car whistle when he returns to Funchal, hoping to have another trip to the airport … In that case Fabio can take an early evening. For two trips to the airport is what's going on … Then he gives up for the day, our man in Funchal; Fabio Rodrigues – Fabio Five Minutes!
Unfortunately

Fabio's old, charming car with the diesel engine and the gearbox that have lagged behind more than 1 030 000 kilometers, now is history. Fabio had to change the vehicle due to new climate restrictions in Funchal. But his old car is still going strong, but not as a Taxi in Madeira's largest city.
Text and photos: John Steffensen – for www.johnsteffensen.no ©