Recommended

places to eat in

Funchal

,

ie

restaurants

I

have

visited:
Restaurants

in Funchal

(

Madeira) that are

 well above average:
Experience Madeira – Travelogue – Text and photos: John Steffensen, Norway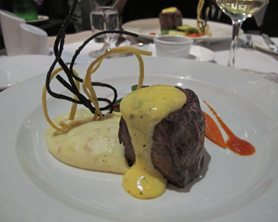 It is full of restaurants in Funchal, Madeira's largest city. Eating dinner at a restaurant is no costly affair, at least not by Norwegian standards. Many of them offer vouchers, which often involves five course dinner, including all drinks (continuous refills). For this you pay an upwards of 37 – 39 euro per person.
If you have not been to Madeira before, it might be fine with some tips from someone who has experience eating out at this stunning Atlantic island. Here are some restaurants that can be safely recommended: (Maximum points score is 100)
Armazém do Sal
Armazém do Sal is in the center of Funchal, in a small side street. The main entrance is a narrow alley where it also exists outside dining. Within there is a large hall, which probably once have been a kind of stock. The entrance is anonymous, and one can easily led to believe that this is a second-class eatery. But Armazém do Sal is arguably one of the best restaurants Funchal has to offer, with white tablecloths on the tables, perfect dining, superb cuisine and everything in care. Ordered ia a steak that was perfectly garnished with a heavenly, unforgettable taste. (92 points) 
Restaurante do Forte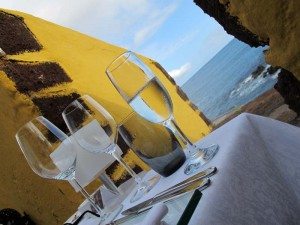 Previously featured on johnsteffensen.no. Restaurante do Forte is situated in one of the three ancient forts which for centuries has protected Funchal from pirates. The restaurant serves Portuguese cuisine and has a very good kitchen where everything is served artfully garnished. The restaurant is popular with locals, and one should book a table in advance. You can also be picked up at the hotel with one of the restaurant's vintage cars. Your experience with this Restaurant depends a bit of the table you're being allocated, and how the weather is. (90 points)
Restaurante Mozart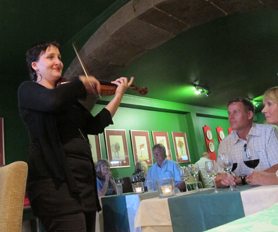 Located just near to do Forte, and has the same owners. The restaurant is very intimate and has superior food. We visited Restaurante Mozart on a Thursday. This weekday runs a special and popular program; «The Chiefs Night». Fantastic live music, performed by a trained, professional musician, put a special touch to the evening. It was funny to recognize that Wolfgang Amadeus himself received us at the entrance and was present throughout the evening. Portuguese food. A great experience! (90 points)
Restaurante Goya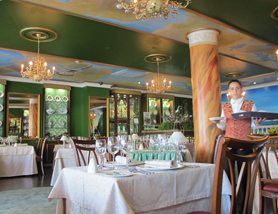 You need to be in the Lido area, about 2.5 km from the center of Funchal, if you want to visit Restaurante Goya. Many tourists are staying in just that area. Restaurante Goya seems somewhat anonymous when one is walking on the sidewalk, and one has actually easy to go past this excellent restaurant. But the outdoor area is a little ounce, but when you enter the building an extremely tasteful decorated restaurant occurs. Here everything is on course with furnishing and décor of first class. The same can be said about the food. A quality place, with a price level that for the restaurants above. Restaurante Goya's cuisine is French with an international touch. (90 points)
Med
It is difficult to find the restaurant «Med», but if you are lucky and do just that, you are guaranteed a very good dining experience. «Med» is one of the hotel Porto Mare's restaurants, and is located fairly well hidden inside the hotel. It actually took several days as a guest at the hotel before we accidentally stumbled across the «Med». But ask at the front desk, they will help you to find the small restaurant. Some days it may be OK with advance notice. The restaurant serves prime beef, and has a very extensive wine cellar with something for every taste (and price). Mediterranean cuisine. (88 points)
Doca do Cavacas
Doca do Cavacas is probably Madeira's most famous fish restaurant with an utterly phenomenal location some distance outside the center of Funchal. Closer to the waterfront, it is difficult to get. The special circular restaurant building, located in the cliff, towering over the Atlantic swell. Doca do Cavacas deserves a visit both because of the location, but not least because of the Espada, one of Madeira's national dishes, made of Scabbard fish, a deepwater fish that live outside Madeira. Espada is utterly delicious in taste, at least when it is served as a traditional Madeira course with grilled / fried banana. It sounds especially, but at Doca do Cavacas they know how to serve fish. Doca do Cavacas' Espada tastes phenomenal. Fish Soup as a starter is also a lovely taste experience. Unfortunately, the restaurant has no good desserts. They are not in harmony with the rest of the their menu. Desserts come mostly straight from the freezer as at the gas station or the supermarket. But the main course – and the amazing location – is well worth a visit. Especially if the weather is great, and you decide to sit outdoors, ie on the roof. (84 points)
😉 OK restaurants 

lacking

the little extra

:
PVP (Pao Vinhoe Petiscos) Good meat dishes. (75 points)
The Beresford Restaurant (Quinta Jardins do Lago) Good restaurant, but avoid fish on the menu. (75 points)
Quinta Bela Vista Restaurant Very stiff, but most tastes good. (69 points)
Il Basilico Italian food, well garnished. (63 points)
La Bamba Varying, mostly good dishes. Great atmosphere. (59 points)
😥 Restaurants

that I

never

 will

visit

again

: 
Granny's House Madeira Cuisine  Uninspired and «killed cooked» foods. Completely dead beef 🙁 (5 points)
Are you

interested in reading

 more

about

Madeira…

? Other

travelogues

 here.